Chris Shahin is a musician and teacher based in San Jose, California. Like many teenage boys, Chris grew up listening to the classic rock guitar heroes but always had a ear and love for jazz and instrumental music. Inspired by several friends, especially the late great Andy Mazzilli, he began to study classical guitar with Randy Osbourne and later studied with Jazz fingerstyle master Tuck Andress. After graduating from San Jose State University with a B.A. in Music, Shahin realized he needed to pay the bills and began teaching music while playing and composing his own instrumental music. He quickly realized he loved teaching others how to play.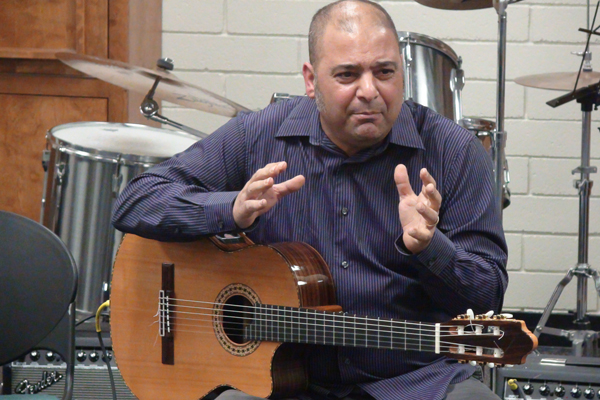 He founded and runs SJG (San Jose Guitar) School of Music and he makes time for his own musical pursuits as a solo guitarist and with The Chris Shahin Band. He was featured in Guitar Player Magazine's spotlight column, and has played his music on radio and television. "I enjoy playing guitar  more now than ever; I continue to regularly practice and compose and have lately been getting into the playing styles of Chet Akins, Merle Travis, Jerry Reed and Tommy Emmanuel," says Shahin.
The Chris Shahin Band  released two earlier albums, Left of Center (1999) and The Tenth Degree (1998). His musical and guitar influences include: Wes Montgomery, Django Rienhardt, Jim Hall, Pat Metheny, Steve Morse, Jimmy Page, Jimi Hendrix, Marc Ribot, Tommy Emmanuel, Bill Frisell and Manuel Barrueco. Two of his compositions, Emancipate the Water Planet and Baja Cactus, have also been featured on two compilation albums, Brine and Waves of The West. Chris's latest release, Valencia, is an all-acoustic guitar album which draws heavily on his classical guitar roots.
Shahin finally made it back to the recording studio in 2010 with the quality accompaniment of Jemal Ramirez (drums and percussion), Ken Okada (upright bass) and Sally Dalke (violin).
Chris's lastest album titled Sanctuary features Sally Dalke on Violin and John Shifflett on bass.  Listen now!.
Chris is currently finishing up his 5th all-original album titled Lifesong. Due out by Fall 2018.